Handmade jewelry designed and created in Menorca. Own colllections and commissioned jobs.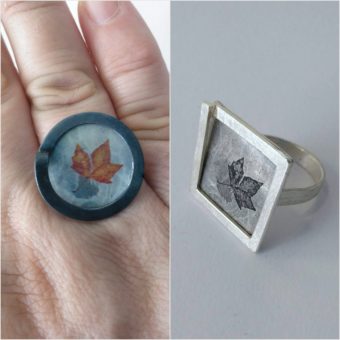 BCNjoya EXPOHOGAR 2019
Between the 27th and the 30th of September, I will participate for the fourth consecutive year in the professional fair BCNjoya (Expohogar), in the Montjüic building of Fira Barcelona. To carry out this action, I have the support of the Departament d'Economia i territori del Consell Insular de Menorca.

For this reason, the workshop will be closed between September 26 and October 1. Even so, the usual channels of communication remain open and I will try to answer you as soon as possible.
On this ocasion, my new collection is called SURANT and it is based in a photography I took some time agon of a tree leaf floating in the sea. I have transfered it to metal in colors and in black and white, so there are two options of color and shape, round or square.
So: if you want to see them up close, you will find me at BCNjoya, at Palau P2 (entrance through Carrer Lleida), at booth E17, in the zone called BCNjoya concept, dedicated to author jewelry, sharing space with the jewelers Santi Capó and Esther Martí.
It will be a pleasure to meet you there. And if not, from October 2nd, I will be back in the workshop.