Handmade jewelry designed and created in Menorca. Own colllections and commissioned jobs.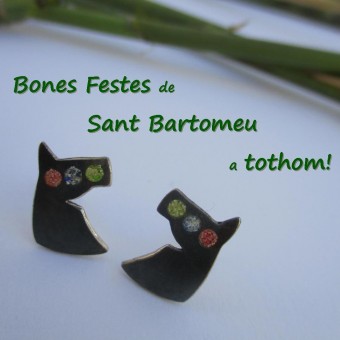 Bones Festes!!
Decorated streets, clean and freshly painted facades, the lovely sound of pennants moved by the wind, nice homemade food flavours, afternoons and nights full of activities, concerts and dinners in the street,… neverending queues at bakeries,… we are nearyly there! In fact, the fiestas have already begun … and although the most intense days will be from Sunday to Tuesday, personally, I enjoy these preliminaries!
.
Therefore, we will close a few days and do a little disconnection, which is always good and necessary: you will find us in the shop until Saturday 22 at noon. Wewill be off until Friday 28 afternoon: we will open approximately from 5pm to 21'30pm and from Saturday, we will return to our regular schedule.
.
Have a good time! "Bon Sant Bartomeu" to everyone! Have fun!