Handmade jewelry designed and created in Menorca. Own colllections and commissioned jobs.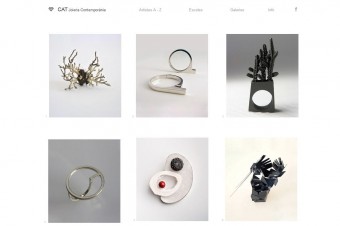 Contemporary Jewel CAT
A few days ago, I found online a pleasant surprise: I've been included in a project that I find very interesting and necessary:  www.catalegartistes.info is a website created by the artist and as she says, Art enthusiast, Imma Batalla. This enthusiasm has pushed her to create a project called Des del Sud, a website that aims to contribute to the dissemination of emerging artists by introducing two artistic disciplines such as Art Jewellery and Art Pottery, that despite being part of the formal art studies, often are not considered "Art". Des del Sud wants to help changing this view, unfortunately widespread.
CAT Joieria Contemporània is a catalog of artists that have been formed, that work or livie in Catalonia, Valencian Country and the Balearic Islands.
The objective of this project is to collect and disseminate Catalan, Valencian and Balearic contemporary jewelery and to contribute to the international projection of artistic jewelry made in these areas by providing a tool for practitioners, curators and the general public .
 Thank you very much for your work, Imma!!