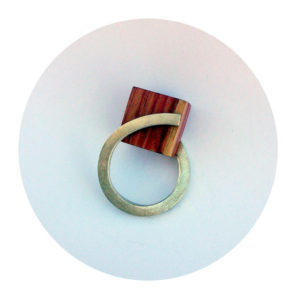 Collection inspired by the vision of city and town buildings from above: you see things in a different way, and you need to look from another point to have the complete picture. 
.
On this ocassion the proposal is to combine precious metals (gold and silver) with diferent color woods: Kingwood, rosewood, ebony, cocobolo or putumuju. Wood finished using furniture restoration techniques. Over time, this collection has evolved and I have combined metals with turquoise, pearl or onyx. If you would like more information on these options, please do not hesitate to contact me.
Some of the jewels of this collection are also characterized by their versatility. Thus, you can find a ring which can also be worn as a pendant.
.
Now available: if you click on the images, you will find information and details about each jewel.
.