Handmade jewelry designed and created in Menorca. Own colllections and commissioned jobs.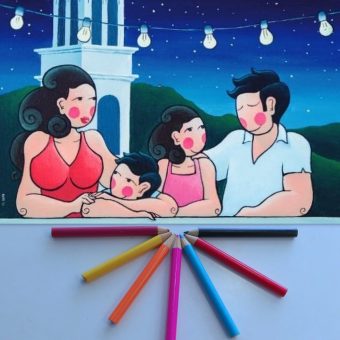 Draw your own jewel! (children's activity)
Yes… Come and draw your own jewel! From the workshop, we join Divendres a la fresca a Ferreries (Friday night market), an initiative that we love, promoted from the city Hall: In Ferreries, every Friday night, throughout the summer, we head out on to the streets to enjoy good company, live music, children's activities, night markets, Workshops, literary tours, exhibitions, guided tours of old arts & crafts and artisan products… You are all welcome! Yo can also visit my jeweller's workshop (you will find all details here).

.
Thus,  Friday afternoon of July (days 1, 8, 15, 22 i 29), between 8pm and 10pm, if you are between 5 and 14 years old (more or less!), I invite you to go through the workshop to see the place where I work. You will also find a space with paper, pencils, paints, markers, .. to draw a jewel, the jewel that you imagine.
.
And if you are lucky, your drawing can become a real 3d jewel, as among all participants on the last Friday of the month, day 29 at 10pm, I will make a draw of a voucher for two of the artists to attend a Creative jewelry workshop for kids, so the winner and a companion can come to create your own jewelry (with materials and techniques appropriate to this age, of course).
.
Come on! I'm sure it will be fun!