Handmade jewelry designed and created in Menorca. Own colllections and commissioned jobs.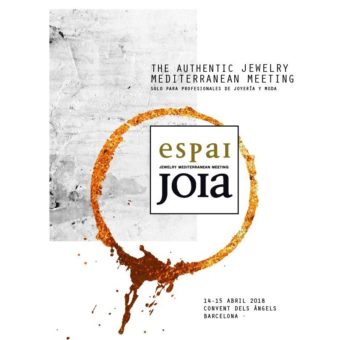 Espaijoia 2018
ESPAIJOIA 2018 will take place on April 14 and 15 in Barcelona and it will be its seventh edition. It is an event with exclusive access for professional visitors.
This year it is proposed in new dates and focuses on the business opportunity for the jewelery sector that can represent the European summer.
This meeting of Mediterranean author jewelry, has been held annually and most times, spaces have been sought with as much history and originality as the exhibits. Therefore, this next edition will be held in the legendary and restored Convent dels Àngels, construction of the sixteenth century and part of the MACBA (Museum of Contemporary Art of Barcelona), in the most visited part of the city. It is a space that inspires art, design and history. It is the ideal environment to promote collections, present pieces and trends, create and increase business, make new contacts and live new experiences.
For this next edition there are confirmed exhibitors from different parts of Spain, United Kingdom, Italy, Austria and Germany.
Under the name of Joia de Menorca, and thanks to the support of the Department of Employment, Economic Projection, Youth and Sports of the Insular Council of Menorca, four of the jewelers of the ARTEME Association will participate in this fair, to present our latest collections. Santi Capó, Xavier Monclús, Dani Fàbregues and Núria Deyà work from our craft workshops, designing and making contemporary jewels impregnated with Minorcan essence. And each one does it with its own and characteristic vision, the result of experience and experiences that make up a set of varied and innovative proposals.
So if you want to know what we do and who we are, we are waiting for you! You will find us at stands 4A and 5A.
For this reason, the workshop will remain closed until next Tuesday, April 17.