Handmade jewelry designed and created in Menorca. Own colllections and commissioned jobs.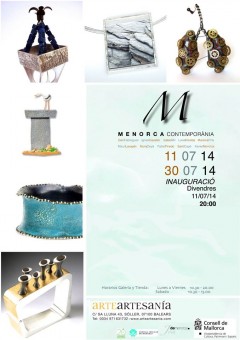 Contemporary Menorca goes back to Mallorca
.
"Menorca Contemporània" goes back to the neighbor island, after travelling to Barcelona, Maó, Ciutadella, Palma and Valencia. You could visit it in Soller, in ArteArtesania gallery, an author contemporary crafts exhibition and sales point. We are thrilled about this!
.
We would like to invite you to the exhibition opening on Friday 11th, from 8 p.m. You have the chance until July 30th to see  Mauri Lavayén, Santi Capó, Xavier Monclús, Mariona Piris, Dani Fàbregues, Isabel Mir, Pablo Pinedo, Ignasi Cavaller, Luisa Nicolás and some of  my own jewels. I hope you enjoy it!
.
See you soon!