Handmade jewelry designed and created in Menorca. Own colllections and commissioned jobs.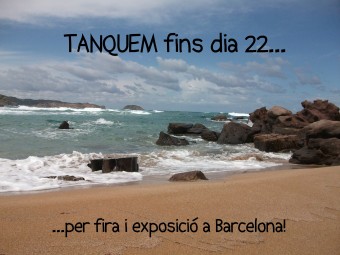 Jewelry week in Barcelona
.
The workshop will be closed from tomorrow; you could find me in booths B91-B93 in Espaijoia from thursday to sunday and in the opening of Menorca Contemporània jewelry exhibition on friday evening.
.
.
And if you are in Barcelona and you love jewelry, there are many more related events in the Barcelona Contemporary Jewelry Week, that may interest you:
.
Fair and conferences Joya Barcelona 2013
Exhibition Sensational Jewels in Galeria Siesta
Presentation of the work of Lucia Massei in l'Horiginal
Mirla Fernandes exhibition in Amaranto Joies
Portraits by Noon Passama exhibition in Klimt o2
Pop Up Context in Mutuo Centro de Arte
Martina Pont  Damet exhibition in  Galeria Koetània
Jewelry and ceramics exhibition Sincrònic in Associació de Ceramistes de Catalunya
Línea de sortida (line-out) exhibition in Escola Massana
Walter Chen paper, bambú and silk jewelry in Dterra Gallery
.
See you there!
One response to "Jewelry week in Barcelona"