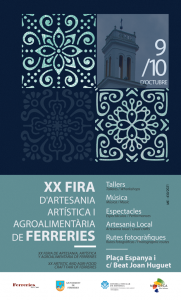 Next weekend, Ferreries will host the 20th edition of the Artistic and Agri-Food Handicraft Fair. In addition to being able to visit the artisans' stalls in the town square, a series of parallel activities such as workshops, demonstrations and shows have been programmed.
This year there will also be a photographic exhibition entitled "Arts and Trades of Ferreries", which can be seen in different artisan workshops of the town, thus offering the possibility of seeing the images and at the same time, visiting the craft workshops where we work.
So if you are curious and you want to see what is behind the finished jewelry and how a jewelry workshop looks like, you will find me here on Saturday the 9th, from 10 am. to 1 pm. and from 5pm to 9pm.
You can consult the entire program of the Fair at this link.