120.00 €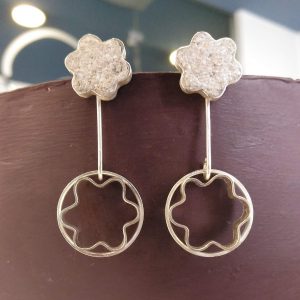 PASTISSET FLOWER BISCUIT (inspired in a tipycal Menorcan pastry) and the CUTTER used to make them silver and pigmented sand earrings. Matte and shiny finish. They can be worn in two ways: complete earring, or just the top part.
Ref. MO02PD-20
Size: Flower biscuit, 12mm diameter. Wire between parts, 25mm. Cutter, 20mm diameter. Presure closure.
VAT and delivery fees to Balearic Islands and main land (registered mail) included in jewel price. Express shipment, shipment to any other places in Europe or other, from 10€. Please contact me and I will be very pleased to send you all details.