Handmade jewelry designed and created in Menorca. Own colllections and commissioned jobs.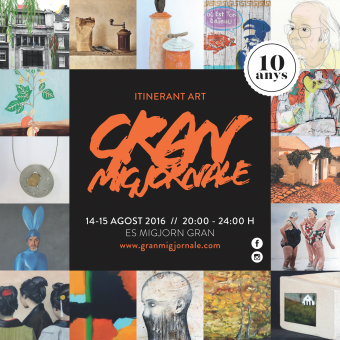 Gran Migjornale 2016
Continuing with this busy August, this weekend arrives the Gran Migjornale 2016. For two days, the village of es Migjorn Gran becomes a large exhibition space. The event is organized by Amics de l'Art 'Es Migjorn Gran. This year already marks the tenth anniversary of this cultural event. For two days the "migjorners" open doors and windows to fill every corner of their houses with painting, photography, sculpture and other arts by local artists, visitors and guests.
On Saturday 13, there will be room for some preliminaries. At 7pm, there will be a presentation of this festival of art in Binicudrell of Darrera (in front of the schools, on the way to the cemetery) and then, at 7:30pm, Sa Xaranga has prepared a children's workshop in Binicudrell of Darrera: we will support the candidacy of Menorca Talaiótica painting the Talaiot of Binicudrell with the help of the participants of the Gran Migjornale. Finally, at 9pm, there will be an organ concert in the church by Tomé Olives.
On Sunday 14 and Monday 15, between 8pm until midnight, you can enjoy this art itinerary. On this occasion, you will find me at the Mirada del Toro Street No. 4, where I have been invited to exhibit: I am very excited to be there! If you fancy coming around, I will show you the jewels that I designed and made in the workshop in recent weeks, specifically for the Gran Migjornale, and a little preview of what will be my new collection this year.
I can not finish without thanking all the work carried out by this group of people for all thie to come to light. I'm sure we will have a lovely weekend!! And now, as they say, COME IN, YOU ARE AT HOME!