Handmade jewelry designed and created in Menorca. Own colllections and commissioned jobs.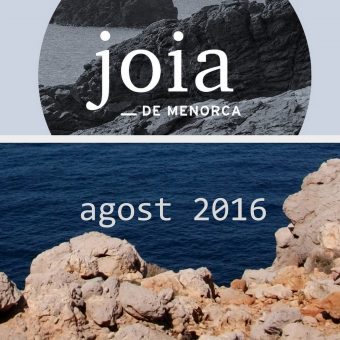 Joia de Menorca – august 2016
And August is already here!
We still working at the workshop and… with prepearing lots of things for next days!!!
First is that next thursday, 4th, we present JOIA DE MENORCA Exhibition in the Centre Artesanal de Menorca. Organized by ARTEME, the Menorca Handicrafts Association, integrated in PIME Menorca, and with the support of Consell Insular de Menorca (Departament d'Ocupació, Projecció Econòmica, Joventut i Esports).
We are:  Santi Capó,  Núria Deyà,  Maria Juanico,  Xavier Monclús, Isabel Mir i Dani Fàbregues. One look at contemporary jewelry created in Menorca.
You can visit it from August 4th to September 30th 2016, in the usual Centre Artesanal de Menorca timetable: tuesday to friday from 10:00a.m. to 6:00p.m.  and saturdays from 10:00a.m. to 2:00p.m.
We would love to see you there!