Handmade jewelry designed and created in Menorca. Own colllections and commissioned jobs.
Transparent
Here you have this collection, that was born some years ago, by combining silver and titanium with mehacrylate balls. This game of transparencies gave me the idea of its name.
.
Over time, and as it usually happens, the collection was evolving and those transparent balls combined with silver and titanium, disappeared and gave way to combinations of freswater pearls with silver and gold. Actually, a picture of some of these earrings is the one I chose to illustrate the workshop-showroom sign.
.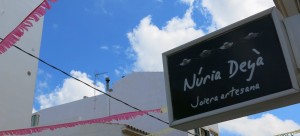 .
And the moment to have a look at those "old" ideas with "new" views arrived: I have introduced new stones and I have developed a little bit more, something I felt I had to do: now, gold and silver, that sometimes is blackened, are combined with serpentine, hematites, tourmalines,…
So, here you have these jewels, already available in the online store; if you want to know more, ckick on the pintures and find the details.