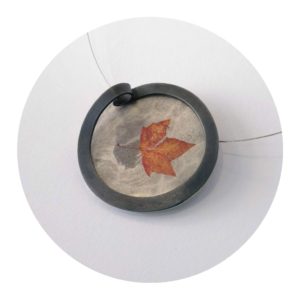 The idea for this new collection SURANT (floating), comes from a photograph I took some time ago of a leaf floating in the sea. This image transmits strength and serenity to me: it leads me to the sensation of floating in the sea a summer sunset in a Menorcan cove.
I wanted to integrate the leaf in the jewel, and to do it, I have applied an image transfer technique in silver.
I have worked in two versions: one, with the image in colors, with a roung shape and blackened silver. The other one, with the image in balck and white, square and in white silver, obteining two different effects. Images are protected wiht resin, in matt or shiny finish.
Here you have some of these jewels, already available; if you want to know more, ckick on the pintures and find the details. Do not hesitate to contact me if you have any more questions.