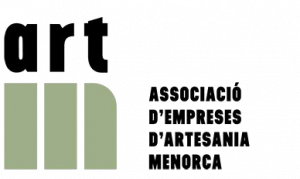 The  artisans are quite used to work alone and I have always thought that it is important to be strong together with other artisans, whether they are from my specialty or not. For this reason, I have been a member of ARTEME for some years.
The Menorca Handicrafts Association, ARTEME, was founded in July 1981 as the initiative of a group of artisans from the island. Since its creation, the association has become part of the Federation of Small and Medium Enterprises of Menorca, PIME Menorca.
ARTEME is made up of craftsmen by trade, professionals of various specialties: food, shoes, jewelry, wood, metal and others, who love their job and hope to shed light on their fields as part of history and tradition, while keeping it both current and innovative through their constant effort.
Craft is culture. A culture that deserves to be known, valued and passed on, and therefore from ARTEME we are working to add value to the craft trade, to professional craftsmanship.
Furthermore, ARTEME actively participates in and collaborates on everything that concerns crafts on an institutional level, and hence we are now members of the Insular Commission of Crafts and the Leader program of the island government, the Consell Insular de Menorca, as well as the Balearic Committee of Crafts in the Balearic Government.
If you want more information, you can find it here.