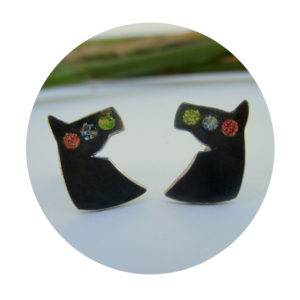 Today I show you the Ta Ta Tero collection, although I've already advanced some of it through social networking over these days. How exciting! I've been thinking and working on it over these recent months and … now it is a reality!
It all started shortly before last year Sant Bartomeu fiestas… preparing shirts for children. Other times, we painted them, but I came up with the idea of sewing some felt silhouettes to them, which then turned into earrings and pendant for a gift.
Gradually, everything was squaring up and, with the idea of presenting it in a special packaging, differentiating it from other things made so far, by cutting paper and testing different materials… the idea of this felted pouch arose, which once open, serves as an exhibitor for the jewel; pulling strings, it closes. It looks like the mirrors horses wear over the fiestas.

.
.
The collection has 5 "members", which are as follows: click in the pictures to know more details about each of them.

.
… but it also has other options: earrings can also be lapel pins, all these jewells can be made in gold … make your suggestions! For any questions or concerns,  please contact me!
I

've had a great time

thinking 

and making these jewels

and I

really wish

you

like it!
.